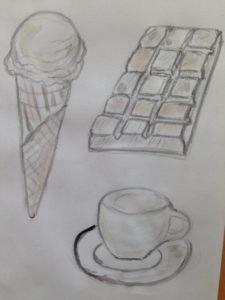 I love ice cream, chocolate and coffe. To consume and to invest in (drawing by the author)
In my view Nestlé, the Swiss-based world largest foodmaker is one of the very view companies being indispensable for my portfolio. For me, it is an investment for life. In the last decades, it offered higher returns on equity which led to even better long-term wealth creation than its competitors such as Unilever or General Mills (of course each of them too has been excellent as long term holding). Have a look at the Nestlé's brands list and its financial fundamentals and you will see, this company plays in a league of its own.
Like most of the consumer staple companies, it is rare that Nestle stocks are really cheap. Of course not, intelligent investors know the quality of that company. Embrace stock market corrections as they provide rare opportunities to buy shares of a wonderful company at a lower price.
Nestlé has increased its dividends for decades. Now imagine, that an investor reinvested the dividends every year to benefit of the magic of the compound effect. Over time, wonderful things happen to the patient investor.
In 2009, when I entered in my position in Nestlé, the company paid out a dividend of CHF 1.60 per share (the Swiss withholding tax on dividends is 35 %, if there is a double taxation treaty with the country of the investor, twenty percentage points can be reimbursed to that investor to lower the tax rate to 15 %). In 2016, the company distributed CHF 2.25 per stock. The dividend yield at costs of my investment has increased handsomely.
Nestlé stocks give my portfolio stability and provide a steadily increasing stream of fresh cash ready to be invested. That cash can also be used to buy stocks of other companies and diversify my portfolio. But as said, in my view there are very few alternatives offering similar quality.
Disclaimer
You are responsible for your own investment and financial decisions. This article is not, and should not be regarded as investment advice or as a recommendation regarding any particular security or course of action.