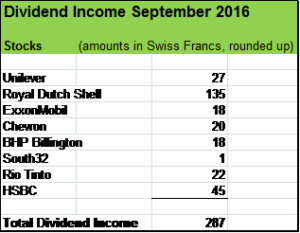 I know, I know. It is the end of October and I've just calculated my dividend payments received in September. I have to say, though, that last weeks were very busy.
Now, let's have a look at the numbers. September is traditionally a strong month in regard of dividend payments from my holdings. Eight companies contributed to my passive income from stocks in the amount of 287 Swiss Francs (trades more or less at parity to the USD).
Unilever has been extremely reliable in the past, consistently increasing dividend payments year after year.
Despite oil price declines, the three oil supermajors in my portfolio (RDS, XOM, CVX) have been quite resilient so far, holding dividends stable (XOM slightly increased dividends in spring 2016).
The three mining companies BHP, Rio and South32 have been hit particularily hard by commodity price declines. BHP and Rio significantly cut their dividends in spring 2016. There is only a slight consolation, that South32 (spin-off of BHP) just started to pay dividends.
I added HSBC in May to my portfolio, so it is the first payment I receive from that company.
Disclaimer
You are responsible for your own investment and financial decisions. This article is not, and should not be regarded as investment advice or as a recommendation regarding any particular security or course of action.