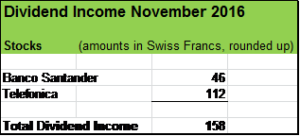 I love my dividends coming in, steadily increasing my passive income streams!
In November, two Spanish companies contributed to my dividend income: Banco Santander SA, the largest lender in the eurozone and the telecommunication giant Telefonica SA.
I invested in these companies at the beginning of 2010 and both became important components of my portfolio.
Banco Santander SA
The bank's history goes back 150 years. The growth of the business in the past decades was absolutely compelling, espacially since 2000, mainly driven through a number of larger acquisitions. Operations expanded across Europe, Latin America, Asia and North America. Banco Santander is very well diversified – geographically and in terms of operations – with a clear focus on retail banking (services offered to individuals such as loans and mortgages).
In my view, Banco Santander manoeuvred quite well through the shockwaves of  the global financial crisis especially when you compare it to other banks of that scale. However, Banco Santander was hit very hard by the so-called "Euro Crisis" and the recession in Spain which started in 2010.
While its homemarket Spain seems to gradually recover, concerns over Latin American economies (namely Brazil) and the relatively weak capital levels of Banco Santander compared to its peers litterally hammered its stock price during the last few years. Low interest rates weigh on the profitability of the bank and its exposure to the UK market is certainly a drag on the stock price namely following the Brexit Vote.
Banco Santander increased its capital last year and dramatically slashed the dividend payouts to reach a capital ratio exceeding 11 % by the end of 2018 to meet the requirements under the banking regulatory framework. Profitability seems to recover slowly but gradually. For the near term, the bank focuses on organic growth rather than through a string of acquisitions.
The dividends of Banco Santander are paid in four installements, three of them in cash and one is offered in additionaly shares (script dividends). For 2016, the bank plans to increase its dividend payments by 5 %.
Telefonica SA
The company is known for its brands such as O2, Movistar and Vivo. Telefonica delivers telecommunication services to almost 350 millions clients around the globe (providing accesses to mobile phones, fixnet and internet) and became through a string of acquisitions to one of the largest telecommunications companies of the world.
In my view, the high dividend payout level in combination with sluggish growth and a weak credit profile is a drag to the company. Divestments or IPOs of parts of the company could certainly ease the credit level and bring more financial flexibility.
The dividends of Telefonica are paid in two installements, one of them in cash and one offered in additional shares ("script dividends").
How was your November in terms of dividend income?
Disclaimer
You are responsible for your own investment and financial decisions. This article is not, and should not be regarded as investment advice or as a recommendation regarding any particular security or course of action.