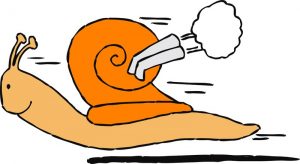 Your savings rate is the the key factor if you want to shape your finances, gain financial flexibility in your life, being able to invest and build up an ever growing passive income stream in order to reach Financial Independence in a reasonable time frame.
FOCUSING ON YOUR SAVINGS RATE
Track you spendings, slash your fixed cost block, avoid discretionary consumption, work hard to increase your income, invest wisely et voilà:
there will be a definite time frame you have to work.
And no! You don't have to be a millionaire to become financially independent!
The relationship between the savings rate and the number of years one has to work before reaching Financial Independence and being able to stop working has been brilliantly described by Mister Money Mustache in his blogpost The shockingly simple math behind early retirement . That article was a real eye-opener for me. There are two key information you get from your savings rate:
what percentage of your income do you take home? and
how much can you live on (how many years required to reach Financial Independence)?
Let's assume a household with a savings rate of 50 %. For every dollar earned, 50cts are consumed and 50cts will be saved. It's a high rate showing
increased resource efficiency
conscious spending habits
strong wealth accumulation process and
enhanced financial flexibility
of that household.
And the other aspect of a 50% savings rate?
Well, one could (theoretically) take every second year off (e.g. to make a sabbattical) or let's put it that way: for each work year, one buys one "freedom year".

Why aiming for a savings rate of 60%

The key driver in any wealth accumulation process is a  systematic approach to consistently keep spendings under control. This is the lever that one can directly have an influence on.
The savings rate shows you, how much freedom one work year can "buy".
As you can see on the graph above, we have been tracking our savings rate since 2006 and consistently increased that rate over time. In 2011 our savings rate reached 50 % for the first and we managed to go even further. Today (February 2017), our savings rate is well above 60%.
Why is an increase from 50% to 60% such a big deal? After all, we are talking about "just ten percentage points" resp. only about some few thousand dollars in additional savings per year.
With a  savings rate of 60 %, each work year "buys" one and a half years of freedom! Whereas a savings rate of 50 % enables you to become financially independent in around 17 years, a savings rate of 60 % requires less than 12 years.
That's a huge difference.
It's not often in life that a relatively small change has such great benefits in the short run and such positive life changing effects in the long term.