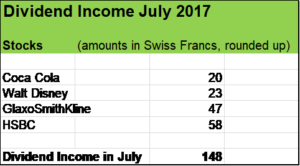 Hey there! Thanks for stopping by!
It's time for an update on my monthly dividend income.
In July, Coca Cola, Walt Disney, GlaxoSmithKline and HSBC provided my with passive income of around USD 150, tripling my dividend inflows for that month year over year.
Well on track for full year dividend goal
Over the last seven months, my stock holdings have paid me the cummulative amount of around USD 3'200 and I'm quite well on track to meet the targeted full year dividend income of USD 4'500.
Since 2009 I set my focus on an annual passive income increase by at least 15 %. I target that growth through a combination of new stock acquisitions, dividend reinvestments and organic growth (dividend hikes).
As the bulk of my investments is in European stocks making their distributions once a year (e.g. Nestlé, Novartis, Roche, UBS, Zurich Insurance Group, Swiss Re, ABB, OC Oerlikon, Bayer, Porsche Automobil Holding SE, Deutsche Telekom, Orange etc.), dividend inflows are highly concentrated on the second quarter (April, May and June).
Compared to the previous three months, my July dividend income of USD 150 looks quite "modest" resp. "unspectacular" but due to the acquisition of  the three very solid companies Coca Cola, Walt Disney and HSBC in 2016 my YoY-income for that month litterally jumped by 300 %! Let's have a look at the positive impact on my portfolio through the acquisition of these great companies (see all My stock Investments in 2016).
My stock acquisitions in 2016 are paying off
In 2017, Coca Cola is contributing USD 80 (quarterly installments) to my passive income, Walt Disney USD 45 (semester dividend payments) and HSBC around USD 280 (four installments, whereas the fourth interim dividend is a larger one). I expect the received total amount of around USD 400 from these three businesses to grow in the high single digit range each year through dividend hikes and reinvestments of the distributions.
I acquired Coca Cola stocks in December 2016 at a price of USD 40.3 (including fees), shares currently trade at around USD 45. My entry price with regard to  Walt Disney was USD 91.8, currently the stock is trading at around USD 100. HSBC stocks have been acquired at an attractive price of GBP 4.6 in June 2016, before the Brexit Vote. Currently HSBC stocks are trading at around GBP 7.65 representing an appreciation of almost 70 %.
But most important, I expect my stock holdings to support my passive income generation quite nicely over time.
How was your July in terms of dividend income?
Disclaimer
You are responsible for your own investment and financial decisions. This article is not, and should not be regarded as investment advice or as a recommendation regarding any particular security or course of action.