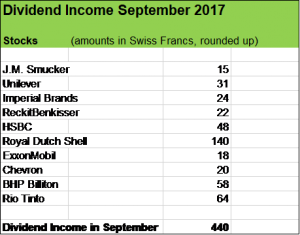 Wow! Time passes so quickly, three quarters are already in the books.
September was a very good month in terms of dividends with ten companies paying me the amount of around USD 440, that's an increase of almost 20 % year to date, putting my investment income over last nine months to around USD 3'700.
I am well on track to reach my full year goal of USD 4'500 in dividend income.
Organic dividend growth really was the key driver
In my latest post, I gave a summary of stock holdings in my portfolio boosting their payouts. On a year to year basis, my September dividend income from the two mining businesses BHP Billiton increased by 200 % and in the case of Rio Tinto by 180 %. September dividends from Unilever are 16 % higher than last year. These payout hikes contributed handsomely to my dividend growth for that month compared to the previous year.
Royal Dutch Shell and HSBC held their dividends steady, my stock count increased by around 8 % due to reinvestments. It's just amazing, these two positions will double each decade.
Dividends of Chevron and ExxonMobil are slightly higher than last year.
J.M. Smucker, Imperial Brands and ReckitBenkisser are relatively new positions I added this year.  As I've stated in my previous blogposts, I  want to give my portfolio a more defensive shape over time.
The flipside of a bull market
As we all know, the stock market really has been a raging bull over the past years producing some quite nice book gains in my portfolio as well. One year ago, the market value of my stock holdings was around USD 100'000 and now sits at around USD 162'000. That's quite a nice increase, even when considering my six investments made in 2017 and my purchases of Disney and Coca Cola stocks late in 2016.
The downside of that tremendous market upbeat?
Well, for an investor in the accumulation phase, new positions become more and more expensive. I only buy stocks I am willing to keep for decades, what I want is to build an ever growing passive income machine. So to allocate my savings effectively and to take profit from the power of the compound effect, more moderate price levels would be  favourable.
Don't take me wrong. I'm certainly not gonna complain about the fact that my stocks are growing in market value. I don't care too much about market movements.
I look at the profitability of the businesses and will certainly keep some of my powder dry. Keeping some cash makes a lot of sense in order to take profit of a market retreat.
But even with markets at all time highs, there are still some companies that caught my eye, such as consumer staple companies (KraftHeinz, General Mills, Kellog, Anheuser Bush etc) or businesses in the insurance sector.
New stock holding in my portfolio: Legal & General
Early in October, I acquired 950 shares at a stock price of around GBP 2.58.
Legal & General Group plc is a British financial services company headquartered in London offering following products and services:
life insurance
general insurance
pensions and
investment management
Legal & General has a particularily strong footprint in the UK but also in the United States. The company also has strong investment businesses amongst others in Europe and Asia.
Legal & General shows a hugely profitable business model. Financial fundamentals are pretty sound and I've been more than pleased to enter into  that interesting position, offering me a forward dividend yield on cost of well above 5.5 %.
How was your September in terms of dividend income? 
Did you add some stocks to your portfolio? 
Disclaimer
You are responsible for your own investment and financial decisions. This article is not, and should not be regarded as investment advice or as a recommendation regarding any particular security or course of action.