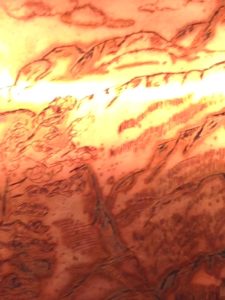 "Glimmer" (copperplate by the author)
A few months ago, I followed a conversation between two guys, one of them planning to buy a house for USD 1 Mio. He told that the down payment would be USD 250'000 and that he has saved that amount during the last 10 years.  He said that his nest egg surpassed at least his "spending budget" of one year. As the conversation went on, the future home owner said that – considering his high salary – his bank better offered him an attractive interest rate for the mortgage. After all, he added with a wink in his eye, he was now a millionaire.
That conversation shows a general misconception many people have on wealth and income. Wealth is what you accumulate over time, not what you earn. The key factor in the process of wealth building is the saving rate. A high salary does not automatically translate into substantial wealth.
Now take our future home owner. His gross salary must by somewhat above USD 300'000 per year and yet his wealth increased by a relatively small amount of about USD 25'000 per year. A massive portion of his pay has been eaten away by his spendings. Very highly paid jobs tend to accentuate the effect of lifestyle inflation which means that increasing income leads to (disproportionally) growing spending.
The purchase price of a house in the amount of USD 1 Mio. does not mean the home owner is a millionaire. The current net worth (assets less liabilities) of our highly paid executive is USD 250'000. Considering his savings rate of about 10 %, the accumulation of USD 1 Mio. would take him decades. Many people earning far less managed to accumulated that amount in a relatively short time period just by consistently keeping a high savings rate.
Now let's assume our highly paid executive had followed a more down to earth lifestyle and had spent say USD 125'000 per year instead of USD 250'000 which would correspond to a savings rate of around 50 %. His accumulated wealth after ten years would by far exceed the amount  of USD 1.25 Mio (just make the math if the assets compounded at 4 % annually) allowing him to buy that house without any financing by a bank and additionally have a buffer of hundreds of thousands of dollars. Higher wealth helps to establish passive income sources as more funds can be invested. Over time the compound effect gains steam and the wealth building process accelerates significantly. A higher savings rate due to a down to earth lifestyle also makes much less dependent on a (high paying) job and gives more flexibility in life.
The key take away: no matter what's your income, focus on your savings rate as it is the key factor to substantially improve your financial wellbeing and to build wealth over time.