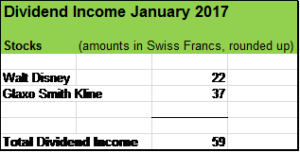 Hi there! Appreciate you stopping by. It's time for my first monthly dividend report in 2017!
But before that, just a short look back to 2016: my investments in shares generated around CHF 4'000 in passive income and I target an increase of 15 % through dividend increases, dividend reinvestments and by adding new positions.
As the bulk of my investment portfolio consists of Swiss stocks (such as Nestlé, Novartis, Roche, Swiss Re, Zurich Insurance, ABB, UBS etc.), my dividend income is heavily concentrated on the second quarter of each year as these companies usually pay their dividends in April, May or June.
My January 2016 dividend income? Zero.
So much to the past. My financial portfolio is significantly stronger and more diversified than before and I am pleased to see two solid businesses – Walt Disney and Glaxo Smith Kline – contributing to my January 2017 dividend income in the amount of Swiss Francs 59 (trades more or less at parity to the USD).
Walt Disney (DIS)
I acquired 40 shares of that company in November at a price of USD 91.8. Far from being cheap but I am fine with that price (see also blogpost Disney is a wonderful company but is the price fair?).
It's the first time I receive dividends from DIS. Projected dividend yield at cost of my investment will be very modest in the near term, it stands below 1,5 % for 2017. The projected dividend yield of my portfolio for the current year in contrast is well above 3.3 %.
Fair enough, it's not the first position in my investment portfolio starting with a very low yield at cost and paying off handsomely after a couple of years.
Given the company's exceptionally strong market position, its track record in the past decades, the strong financial fundamentals and the stable growth prospects I am quite optimistic that the company will grow earnings per share and dividends quite nicely over time.
In December 2016, DIS announced a dividend hike of its semi-annual dividend payout per share. The company's payment for 2017 will be USD 1.49 a share, up from USD 1.37 a share in 2016. A nice boost of 8.8 %.
GlaxoSmithKline (GSK)
I acquired 150 shares of GSK by the end of 2015, so it's a relatively new position as well.
GSK is in my view a fine company with a strong position in three segments: pharmaceutical, vaccines and consumer healthcare with well-known brands such as Voltaren, Panadol, Sensodyne and Aquafresh.
The company offers a so-called Dividend Reinvestment Plan (DRIP) which means that dividends are paid out in shares if the investor chooses so.
GSK pays dividends quarterly. In January 2016 I was not yet eligible to receive payouts as the stocks had been acquired after the record date. So my position started to become "productive" from the second quarter 2016 on.
Since then, I collected dividends in form of shares for each quarter by participating in the company's DRIP. The share count grew more than 6 % from 150 to 160. I expect the compound effect to work quite nicely in my favour over time.
How was your January in terms of dividend income?
Disclaimer
You are responsible for your own investment and financial decisions. This article is not, and should not be regarded as investment advice or as a recommendation regarding any particular security or course of action.