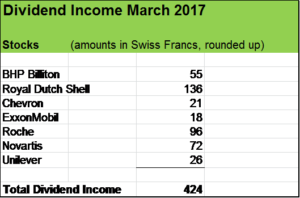 Hi there, thanks for stopping by. It's time for my monthly dividend income review.
Seven strong companies have contributed to my March dividend income in the amount of around USD 424 (the Swiss francs trades more or less at parity to the USD). Compared to the previous year, that's an increase of 6.8 % mainly due to organic growth (dividend hikes).
And there's some good news from my stock holdings.
BHP Billiton boosts dividend
What a huge difference twelve months can make! Last year, amid collapsing resource prices (iron ore, oil etc.) BHP Billiton reported a hefty loss and slashed its dividends radically by around 70 %. BHP Billiton pays its dividends in two installements (interim and final dividend). In early 2016, I received an interim dividend in the amount of USD 21. This time, the dividend is substantially higher in the amount of USD 55, which is a good thing although the payment received is lower than in 2015. For 2017 I expect my yield on cost to be well above 3.5 %.
Resource prices have recovered quite substantially but BHP Billiton also presented robust financial performance due to productivity gains. The company manages to cover the dividends with free cash flow and even paying down some debt, protecting its "A" credit rating.
Oil majors
Last year, Royal Dutch Shell acquired the British multinational oil and gas corporation BG Group and has made significant progress by improving free cash flow, streamlining the combined company and realizing synergies. Royal Dutch Shell has begun to deleverage and will continue so over the years. I see tremendous potential in that company which is one of my most important dividend payers, contributing over USD 500 to my annual dividend income of around USD 4'500. By the end of 2017, Royal Dutch Shell will have returned to me over 60 %  (roughly CHF 3'000) of the invested principal amount of CHF 5'000 back to 2009.
Regarding the two other oil majors in my portfolio – ExxonMobil and Chevron – I am quite optimistic that these companies will increase their dividends in 2017 given the recovery of the oil price which – in combination with streamlining and relatively low capital spendings – should lead to improved free cash flow.
Swiss big pharma
Novartis and Roche showed slowing growth in the past years. Novartis hiked its dividend by 2 % and Roche by 1.2 %. Taking into account the reimbursements with regard to the Swiss witholding taxes (reducing the burden from 35 % to 15 %), my yield on cost will lie at 4.3 % for Novartis and at 4.9 % for Roche. That's pretty strong.  Slowing dividend growth is really no reason to lament about. As long as the business fundamentals and the cash generation machines remain intact, I am more than happy with these two companies.
I like ice cream – and even more Unilever
Unilever has been a very solid and reliable dividend payer in the past years. My current yield on cost lies at around 3.5 %.
And there is more to come! Unilever lately announced to raise its dividend by 12 % and to launch a share buy-back of EUR 5 Bn.
Unilever's brand portfolio with household names and products such as Magnum Ice Cream, Lipton Ice Tea, Axe, Rexona, Knorr, Persil etc. is just amazing and – taking a long term view – fundamentals look very bright for that company.
How was your March in terms of dividend income?
Disclaimer
You are responsible for your own investment and financial decisions. This article is not, and should not be regarded as investment advice or as a recommendation regarding any particular security or course of action.