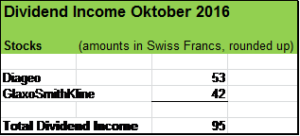 Two British companies contributed to my October dividend income of 95 Swiss Francs (trades more or less at parity to the USD): Diageo, the world largest producer of spirits and of beer and GlaxoSmithKline, one of the leading pharmaceutical companies in the world.
Both stocks are relatively new in my portfolio, I added GlaxoSmithKline in December 2015 and Diageo in May 2016.
Diageo has an absolutely compelling portfolio with iconic brands such as Johnnie Walker (Scotch Whisky), Smirnoff (Vodka), Captain Morgan (Rum), Baileys (Irish Cream), DonJulio (Tequila) and Guiness Beer. Diageo has a 34 % stake in Moet Henessy which owns the champagner brands Moet & Chandon, Veuve Clicquot and Henessey. Diageo is a company with a wide economic moat and several catalysts for growth.
GlaxoSmithKline operates in three segments: Pharmaceuticals, Vaccines and Consumer Healthcare with products such as Voltaren and Panadol (pain relievers), Sensodyne (toothpaste) and Aquafresh (oral care). Compared to Johnson & Johnson, Glaxo has not such a smooth income history, there are hiccups from year to year. Another point is that the payout ratio is high (presumably over 100 % of the net income due to the distribution of a special dividend in spring 2016). However, GlaxoSmithKline is a well established pharmaceutical company with high quality assets and a wide economic moat. I had that company for three years on my watchlist and I have to say, that in my view there were several time periods, when the stock price seemed  undervalued and therefore very attractive to me. So my focus was to make sure that there was the widest margin of safety when I entered the position.
Both companies, Diageo and GlaxoSmithkline offer Dividend Reinvestment Plans (DRIPs) which means that dividends will be paid out as stocks if the investor choses so. I love DRIPS making my portfolio a real compounding machine.
How was your October in terms of dividend income?
Disclaimer
You are responsible for your own investment and financial decisions. This article is not, and should not be regarded as investment advice or as a recommendation regarding any particular security or course of action.